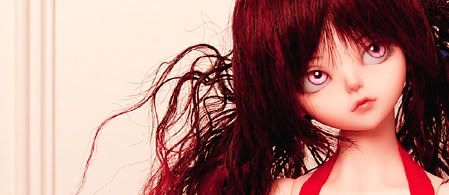 Just a few pictures of the new girl, Tabby. I was actually trying to photograph the faceup, but I got lucky and the lighting turned out unusually well, so I'm quite pleased with these. I also got a bit
carried away with layers and screens in Photoshop, but I kinda like it, makes a change to the natural style that better suits my other guys. Looking at these, I think I'm gonna redo the faceup; the freckles barely show up on camera and I'm not happy with the eyelashes anyway, too dark.
So yes, another girl, how did that happen?! When I first got into BJDs, the only sculpts I really wanted were male, and of the quartet of characters I wanted to doll-ify (which were the only ones I intended to get, back then) 3/4 are male. Ah well, more opportunities for pretty clothes, hm?
Details if anyone cares (or if any BJD folk should stumble into here and want reference); doll is CP Kid Delf Ani in the now-discontinued normal skin, old-style girl body.

Character based on is Tabitha Sheehy, an (at present) minor character in my 'verse, Sable's cousin and daughter of Fenn's boss. Age ~13, tomboyish, wanna-be-but-too-middle class-to-be street urchin type, can be bit of a smart-arse but generally good kid, hangs around with some mischievous sorts but doesn't cause too much trouble.
She needs some different, high-quality eyes, and eventually I want to compile some sort of Victorian street child + cute punk style outfit, but for now it's handmade clothes :)
Edit: OMG. OMG like... guh. I know no-one on my flist follows Tsubasa, but I don't care, I need to flail.

Chapter 185 = utter win, just... wow. I... am reduced to puddle of incoherent fangirly goo. Clamp, as long as this moment of pure awesome is not just making up for some up-coming cruelty, I forgive you for the previous, somehow-just-off chapter, because wow. Bitchslapping? Finger licking? You know how to make our brains melt. I like this new assertive Fai. A lot. And so does Kurogane.